B.A.S.S., the world's largest fishing organization, and C.A.S.T. for Kids, the largest children's fishing charity in the nation, partnered together to create the inaugural humanitarian award, recognizing the important work being done by many anglers to support fragile populations.
The 2020 C.A.S.T. for Kids B.A.S.S. Humanitarian Award was given to a B.A.S.S. member who has demonstrated an extraordinary commitment to serving groups such as children with special needs who need extra help and support. This year, Chris Rambough, the faithful coordinator of Idaho's Black Canyon C.A.S.T. for Kids event was honored.
His award nomination characterized Rambough as having an unmatched commitment to every person he meets.
"He truly is man of service," read a nomination. "Service to the fragile population, service to his community, service to his club, service to strangers and service to humanity. He finds the good in each participant."
When the event funding through the Bureau of Reclamation at Black Canyon got pulled a week before the C.A.S.T. event in 2018, Chris and Stacey Rambough funded it themselves. They backed the entire event in memory of Harold Vaughn, Chris' dad.
"Whether the event is going to be shut down for lack of funding or a kid needs a specific kind of boat to accommodate their needs Chris steps up each and every single time with his own hard earned money, his time, his leadership and most of all his love," read another nomination.
The 2019 C.A.S.T. for Kids Event at Black Canyon, Idaho
Led by Chris and Stacey Rambough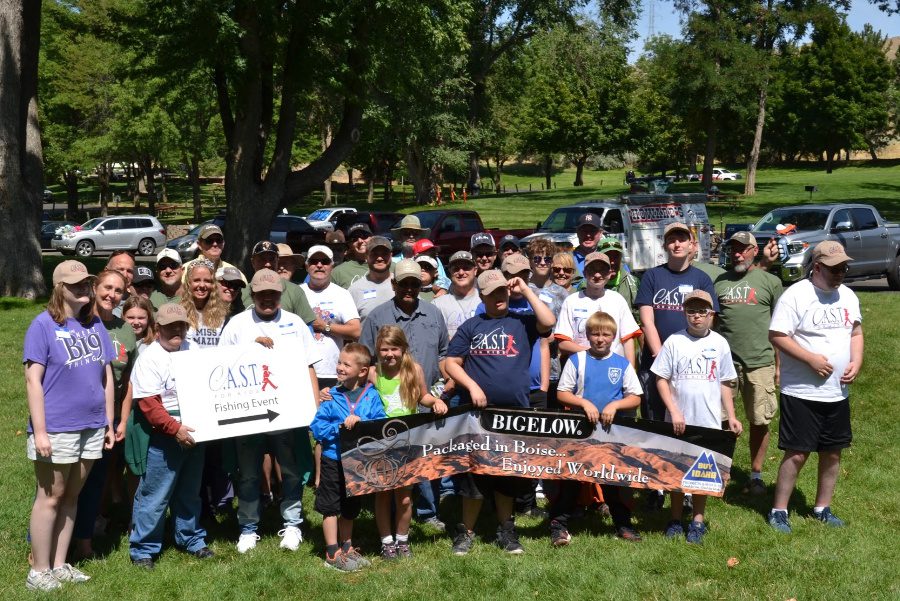 The Many Ways Chris Demonstrates His Commitment to C.A.S.T. Participants
According to one nomination, these are the qualities Chris possesses and the actions he takes that set him apart.
Chris gets boats. Last year,  the event at Black Canyon had 9 EXTRA BOATS that didn't go out because they had more boats than kids.
He recruits volunteers. People who don't even fish come out to support Chris and his passion and love for C.A.S.T.. Twenty volunteers drive over an hour to the lake who don't fish, don't own boats, don't have children with special needs but just share in the love of humanity with Chris and Stacy.
He knows the participants by name. He accommodates each and every participant. If they need a pontoon boat or a slower boat or a red boat or whatever the request, Chris Rambough provides.
He personally rented an extra pontoon boat this year so that one of the kids didn't feel overwhelmed like he did the year before.
He is committed to providing good quality gear and getting the best donors and sponsors for it.
He sees a need and he responds.
You can count on him.
Chris, a Father to the Fatherless
One final nomination shares a touching, personal story of how Chris has profoundly touched the lives of her and her son.
     "I am a single mom struggling to provide for my son. So when Chris approached me about BASS fishing, my heart sank. How could I provide this for him? I didn't own a boat, I didn't know anyone that fished, I knew nothing, had nothing, and couldn't afford to help him with this dream. Chris not only has taken my son under his wing and mentored him on fishing but in life. He is part of a foundation for my son that no one else would provide."

     "He takes him out on his boat and teaches him pride, responsibility respect and the benefits of hard work. He supports him at National Honor Society, football and baseball games, he comes to bday parties and buys fundraising cards. He has helped place my son on a possible BASS fishing success story, maybe even college! Chris even one summer watched me drive my old beat up 2000 Nissan Xterra to every tournament and wait in the shade till it cooled down enough that we could drive home since the A/C was broken. One weekend after the tournament, he said I should go at least have it looked at and told me of a place to take it. I dropped it off and they called that afternoon and told me they couldn't find anything wrong with it and that I could come pick it up. Chris insisted that the mechanic not tell me that they fixed it and my AC has worked ever since. I am blessed to have Chris in my life and know that my son is better because of him. Chris Rambough's passion for others and love for fishing is the very definition of this award."
Chris' Humble Acceptance of Such a Great Honor
"First, I may be the man in front but my amazing wife & best friend Stacy is every bit as deserving as I. She walks hand in hand with me doing the things we do. "

"Second, somewhat along the same lines I would like to say that this is a WE Award, not a ME Award ! There is a huge number of family, friends and organizations that provide the necessary support to do what we do. The Payette River Bassmasters have followed me in large numbers both as boaters and shore volunteers to make this possible for many many years. Also, the Idaho Bass Nation has worked hard to support this event."

"Third, and far from least important is my father, Harold Vaughn, who got me into this sport and the C.A.S.T. events back in the early 1990s. He was the epitome of caring & sharing! Every person should strive to be what he was!"