The C.A.S.T. for Kids Foundation enriches the lives of children with special needs, supports their families, and strengthens communities through the sport of fishing.
We empower families and communities to celebrate children with special needs, making these children feel valued and loved so they can overcome limitations and be successful.
The C.A.S.T. for Kids Foundation (C.A.S.T. = Catch A Special Thrill) is a public charity that was formed in 1991 to join volunteers who love to fish with children who have special needs and disadvantages for a day of fishing in the outdoors. The Foundation became an official 501(c)3 in 1994 and currently hosts three programs: C.A.S.T. for Kids, Fishing Kids, and Take a Warrior Fishing.
C.A.S.T. for Kids Program:  Children with special needs (ages 6-18) and their caretakers come together with community volunteers for a fun day of fishing they may not otherwise experience. These events provide a refreshing break from their daily challenges. Spreading a positive message that kids with disabilities can accomplish anything, we include all children, despite their limitations. This is all made possible through national and local sponsors-people who want to make a big difference in the lives of kids with special needs thus strengthening their community.
Fishing Kids Program: In 1996, it was developed to introduce and engage urban youth in the sport of fishing. The Fishing Kids Program is built around the slogan, "Getting more kids fishing, more often," and is designed to create and provide more fishing opportunities for urban youth.
Take A Warrior Fishing Program: It was established in 2011 and is designed to support military personnel and their families, specifically targeting persons assigned to Warrior Transition Commands, by creating an adaptive community-based outdoor recreation experience through the sport of fishing.  The main goals of this program are to restore that disconnect by increasing family interaction, encouraging outdoor recreation, and supporting positive, social interactions that help transitioning service members rebuild connections with the civilian world.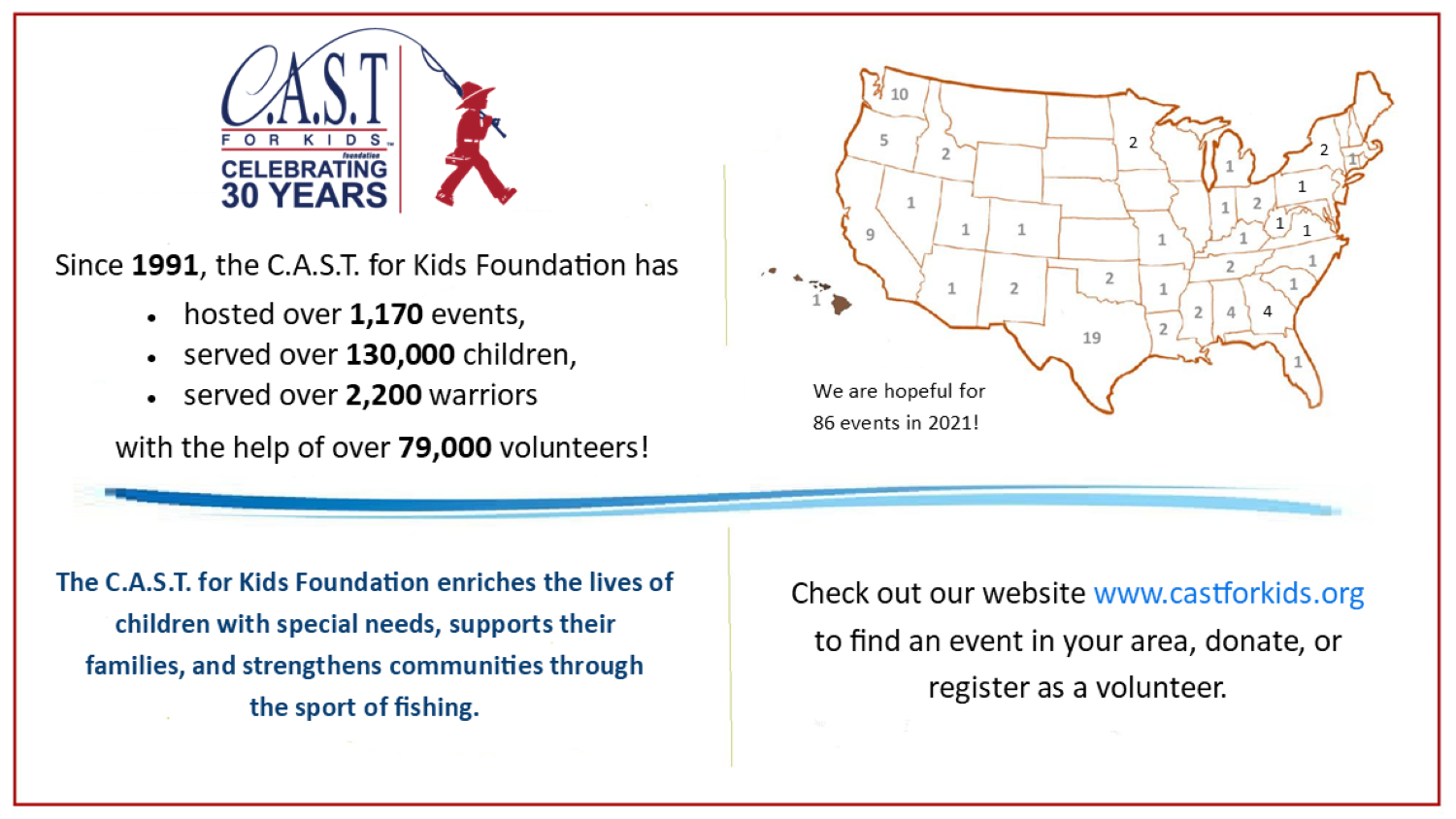 Financials & Annual Report
Our Board of Directors
Meet our  Board of Directors who govern the C.A.S.T. for Kids Foundation, representing numerous interests and are committed to supporting the continuance of our mission.
The C.A.S.T. for Kids Foundation Staff
Executive Director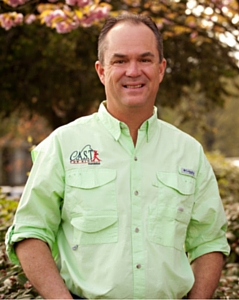 Jay Yelas
2755 Commercial St. SE, Suite 101
Salem, OR 97302
(541) 992-0441
After serving the CAST for Kids Foundation for 10 years on the Board of Directors, Jay Yelas took over as Executive Director in 2015. "My passion for people and for sharing the great sport of fishing with others, especially with children, is why I love C.A.S.T. for Kids. Amazing things happen at our events when so many good-hearted people volunteer to pour their love out on these children."
Yelas is a familiar name on the professional bass fishing tour. His notable accomplishments include winning the 2002 Bassmaster Classic, the 2003 B.A.S.S Angler of the Year and the 2002 and 2007 FLW Angler of the Year. Additionally, Yelas won a 2003 ESPN ESPY award in the Best Outdoor Athlete category.
Jay has been married to Jill for 28 years, and their two daughters Hannah and Bethany are both college students.
Chief Operating Officer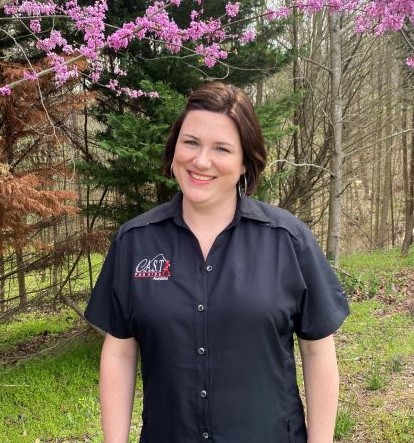 Rebecca Mabe
2755 Commercial St. SE, Suite 101
Salem, OR 97302
(541) 992-0441
Rebecca joined the C.A.S.T for Kids Foundation in 2020 and could not be more excited for this opportunity.  Her past experiences include working in retail, working with children at a Boys and Girls Club, and in ministry as a Missions and Discipleship Director for the local church.  Rebecca is passionate about her faith and her mission is to help people meet Jesus wherever she is.  Rebecca is married to Jason, and along with teen daughter, Jailyn, they enjoy serving together, traveling together, and just being together.  "The joy that radiates from these special children and their families is life-changing and to play a small role in creating an event to celebrate them is a gift."  She is excited about this new chapter with C.A.S.T in helping these special boys and girls get out on the water to catch a thrill.    
Western Regional Director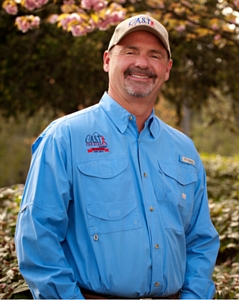 Jim Behnken
382 Shangrila Lane
New Braunfels, TX 78130
(210) 414-8048
Jim Behnken has been involved with the foundation since 2001, first as a volunteer boater, and since 2004 the coordinator for the Lake Calaveras event. Behnken owned his own business in San Antonio for 25 years and has worked 6 years as a bass guide on Falcon Lake, as well as Sugar Lake, and Las Blancas Lakes in Mexico. Behnken, who is a widower, has two daughters, Julie and Jessica, both grown and out in the working world now.
Behnken says that "Working with special needs children and helping veterans, is a dream come true opportunity for me. I love working with not only the children and military personnel, but also the wonderful coordinators who dedicate their time to doing something amazing for these children and warriors. I look forward to helping our C.A.S.T. team put many more smiles on the faces of deserving individuals."
Eastern Regional Director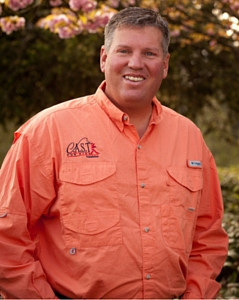 Jeff Barnes
25 Derrick Circle
Albertville, AL 35951
(256) 310-4323
Jeff lives in Albertville, Alabama and has been the Eastern Regional Director for the C.A.S.T. for Kids Foundation since 2015.  A lifelong fisherman, Jeff really enjoys sharing and helping special needs children as well as active duty and veteran warriors how fun a day of boating and fishing can be.  "It's great to see the volunteer's reaction when the kids get excited.  These events truly touch everyone involved".  Jeff looks forward to helping others put on these great events all across the country.
Jeff has been married 23 years (Kelly) and has a daughter (Lauren) age 15.  "I encourage everyone to volunteer at an event or better yet help start your own event, there are plenty of special kids and special warriors who would love to experience the thrill of catching a fish".
Operations Manager/ Northwest Regional Director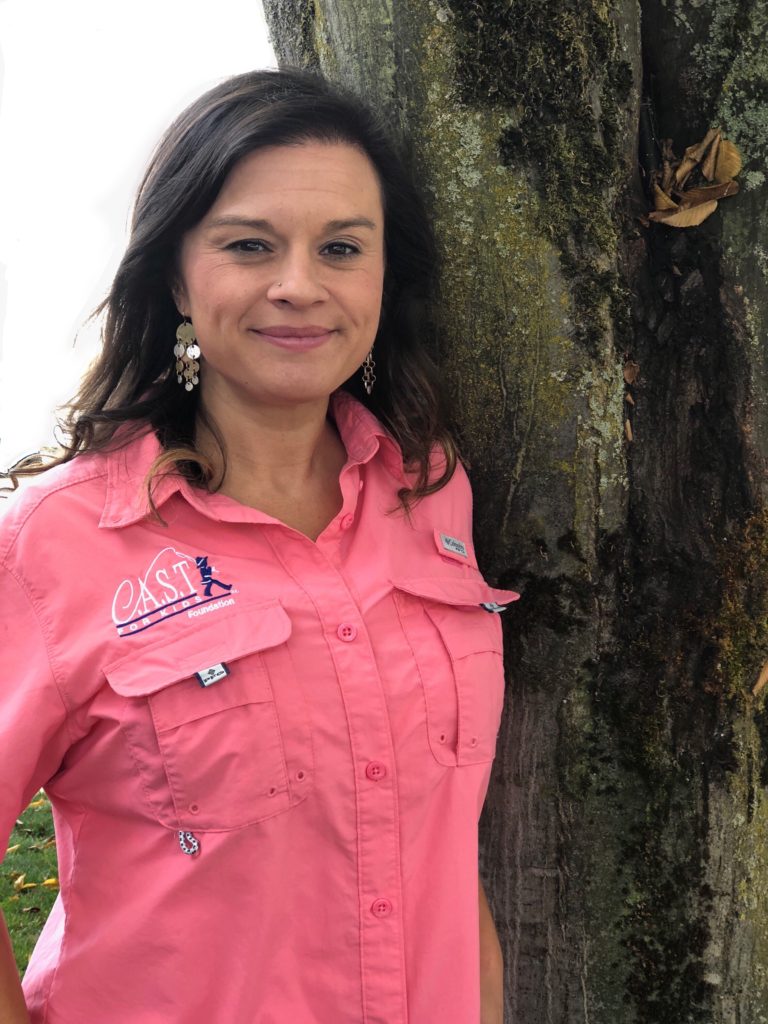 Bernadette Darby
2755 Commercial St. SE, Suite 101
Salem, OR 97302
(541) 992-0441
Bernadette joined the C.A.S.T for Kids Foundation in 2018. She has always had a passion for working with children.  She has experience working as a special education para educator in the public school system and has been a volunteer for many youth programs and school activities over the past several years. Serving her community and the children in it, is a passion of the heart for her.
"I want every child to feel special, every child to know they can do anything and every child to be celebrated. At C.A.S.T I look forward to making kids smile through our fishing program and to be able to remind them they are all are special, accomplished and celebrated."
In her free time, she is running around with her own 3 children, 2 sons and 1 daughter looking for the next adventure!  Some of our favorites things to do together are bike, golf and even a little fishing!
History In Brief
---
1992 – First C.A.S.T. event held at Banks Lake in Eastern Washington in partnership with the Bureau of Reclamation.
1993 – Events were added in Eastern and Western Washington, and Idaho.
1994 – C.A.S.T. for Kids Foundation established as a 501(c)3.
1996 – Bureau of Land Management becomes a partner with C.A.S.T. for Kids. Fishing Kids Program is established.
1998 – U.S. Army Corp of Engineers becomes a partner. Fishing Kids Events receive sponsorship from Washington State Department of Fish and Wildlife.
1999 – Number of events hits 25 ranging from Washington to Florida. C.A.S.T. opens the corporate office in Renton, Washington.
2002 – C.A.S.T. hosts 32 events in 18 states. Professional Anglers Association becomes a partner.
2003 – C.A.S.T. hosts 35 fishing events in 20 states. C.A.S.T. is accepted as a National Combined Fund Drive member through Children's Charities of America.
2005 – C.A.S.T hosts 37 events. California Departments of Water Resources, Fish & Game, Parks & Recreation, and Boating & Waterways become newest official partners.
2008 – C.A.S.T. hosts 53 events in 23 states, adding new events in Washington D.C. & Pennsylvania.
The Foundation receives grant support from the Recreational Boating & Fishing Foundation. C.A.S.T. partners with University of Washington Sociology Department to establish a comprehensive program evaluation.
2009 –C.A.S.T. hosts 54 events in 22 states, adding events in New York and Wisconsin. The Foundation hosts events in conjunction with the FLW Tournament Series and the Professional Anglers Association.
2011 – C.A.S.T. launches the Take a Warrior Fishing program, hosting its first event at Joint Base Lewis-McChord in Washington state.
2015 – Jim Owens, Founder, and Executive Director Retires after 24 years. Jay Yelas named new Executive Director.
2017 – C.A.S.T. for Kids Foundation is growing! We held 64 events; the most in the history of the Foundation.                                                                                                2020 – C.AS.T. partners with B.A.S.S. on the inaugural C.A.S.T. for Kids B.A.S.S. Humanitarian Award, presented on stage at the 2020 Bassmaster Classic.