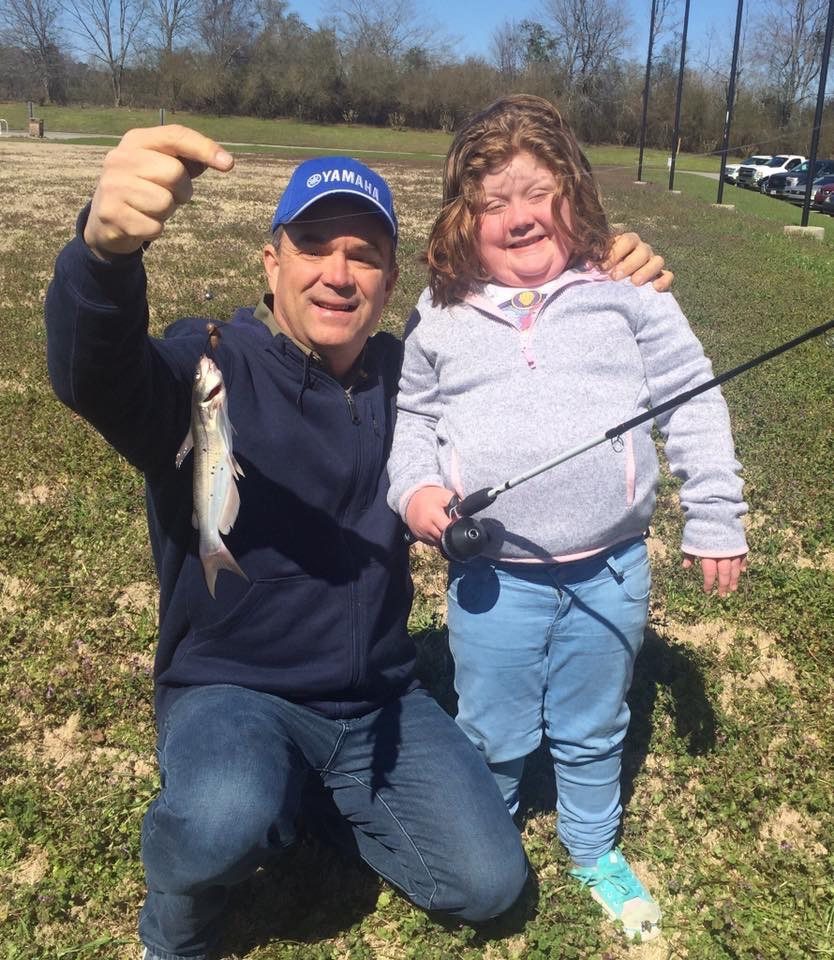 Jay Yelas, C.A.S.T. for Kids Executive Director,
celebrating the day's catch with Aubrie
As the Bassmaster Elite Pros gathered for the annual three-day Bassmasters Classic fishing tournament, so did a unique bunch of special kids, some to fish for the first time.  Typically, C.A.S.T. for Kids events are held during the warmer months of the year, but B.A.S.S. wanted to showcase the value and impact of taking kids with special needs fishing with their constituents. So, on February 29, 2020, in Hanceville, Alabama the first C.A.S.T. for Kids Bassmasters Classic event was graciously hosted at Wallace State Community College, 45-minutes north of Birmingham.
Because of the unpredictable weather that time of year, Jeff Barnes, our Eastern Regional Director, planned for sunshine and rain. The kids would ideally fish the four-acre pond on campus if the weather proved mild enough. Or, if it rained, a pool donated by Academy Sports + Outdoors was stocked with catfish and covered with a tent so that if we couldn't bring the kids to the pond, we'd still be able to bring fish to the kids.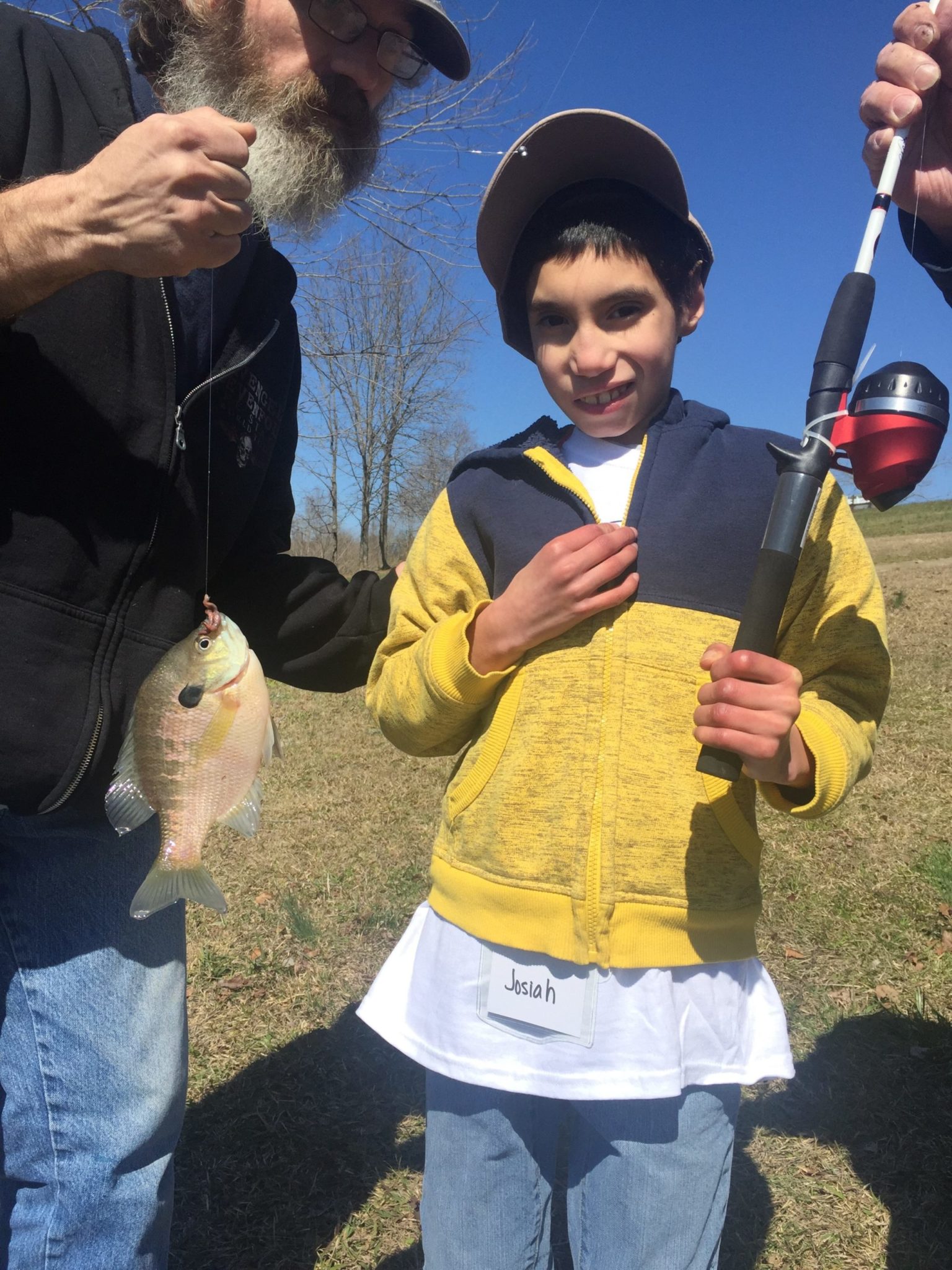 Proud Moment for Josiah with the Bluegill He Caught
To our great delight, the sun came out that day. The kids fished the pond, some even catching up to five fish. They also fished the pool, although the fish weren't biting well. When they got chilly, they could go inside the school's gym to warm up and play a casting game to practice hooking and reeling in a fish or jump on the bouncy houses provided by Temple Baptist Church.
B.A.S.S. college and high school tournaments coincided with the C.A.S.T. for Kids Bassmasters Classic event. Most of our volunteers for the event were from fishing teams at Jasper High School, Hayden High School, and Wallace State Community College. Seeing the turnout of the younger, up and coming anglers sharing their expertise with the special kids, a few from Children's of Alabama was inspiring!
We are grateful for our growing relationship with B.A.S.S. which helped make this event possible. We also couldn't have done it without the generosity of Wallace State Community College for use of their facility. Also, Woodmen of the World came with six employees who cooked and served lunch.
We hope to make this an annual event to serve the kids and help raise awareness among anglers nationwide that taking kids with special needs fishing is one of the best experiences anyone could have!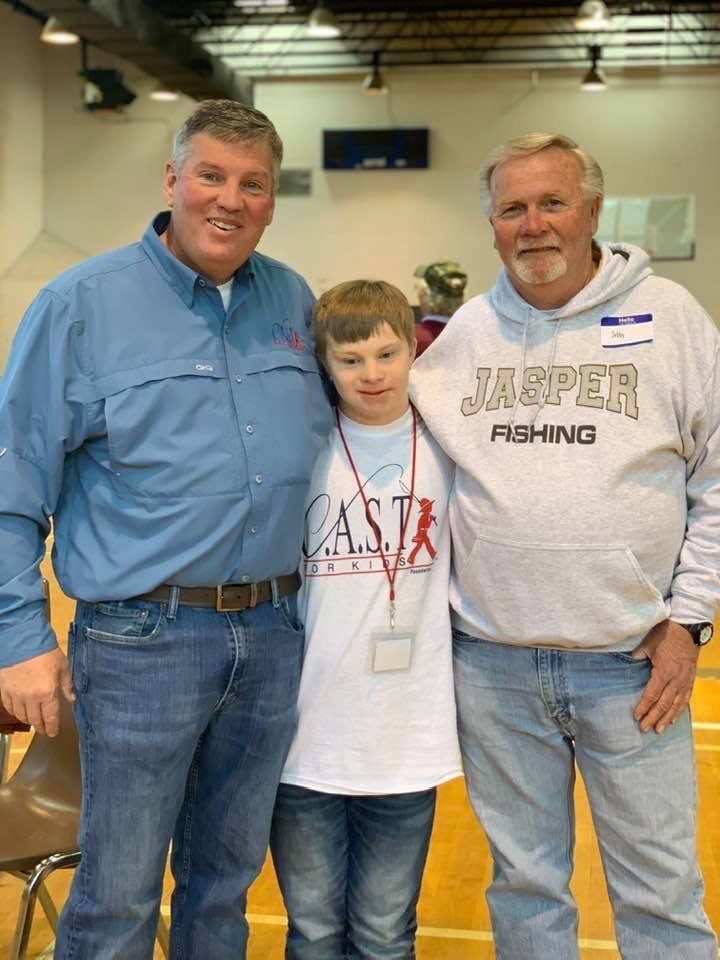 Jeff Barnes, Eastern Regional Director, with Bobby and Little Buddy Logan