We've had several people donate their birthday to C.A.S.T. for Kids on Facebook! This is a tremendous way to rally your friends and family to support a cause you care about.
In three easy steps and just a few minutes, you can go live with a birthday fundraiser and make a huge difference in the lives of kids with special needs and their families. 
Here's how…
Setting Up a Facebook Birthday Fundraiser
Login to your Facebook page.
Find the CAST for Kids Foundation Facebook page. https://www.facebook.com/castforkidsfoundation
Scroll down and find "Fundraisers."
Click "+create" to start the easy three-step process.
Three Easy Steps
Step One
These fields are automatically generated by Facebook for you. Choose the amount of money you aim to raise. Choose your end date.
Step Two
This is a perfect place to share your story. You can use the custom text but it is more powerful to share with friends and family your personal connection to C.A.S.T. for Kids and why you would choose to donate your birthday to the special kids who attend C.A.S.T. events.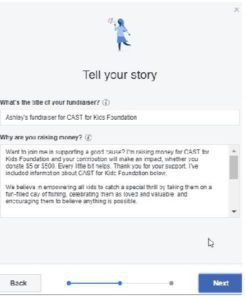 Step Three
Use our cover photo or upload one of your choosing.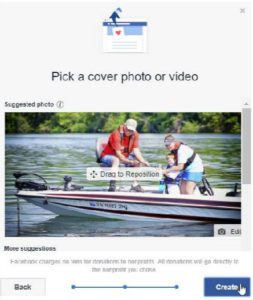 Now you're ready to post!
Thank you! You've done your part.
Facebook will send each of your donors a tax-deductible receipt.
Now, we'll do ours.
We'll pop on to your Facebook fundraiser page and personally thank your friends for their generosity.
Thank you for celebrating your birthday with us and giving this gift
to many special kids across the nation!