"I loved that little guy I took fishing.  He's a handful, and I'm sure he wants to be a boat captain when he grows up :)" – Boat Captain, Strawberry Reservoir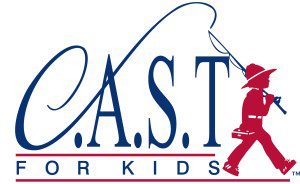 This is a C.A.S.T. for Kids event designed to provide children with disabilities, ages 5 – 17, the opportunity to enjoy a quality outdoor recreational experience through the sport of fishing. Take to the water with C.A.S.T. for an unforgettable morning of fishing and boating!
Event Location
Soldier Creek Recreation Area
Heber City, Utah, 84032 (
map
)
Event Contacts
Event Coordinator
David Isleman
801-524-3668
Donate to This Event
See More About This Event!
Check out this video taken at a past event by one of our participants!
Read About Past Events
2017 Event Recap
Morning registration started bright and early and went very smoothly. Volunteers were the first to arrive to get banners/signs and registration tables set up. We formed a great new partnership this year with the Utah Department of Wildlife Resources (DWR). They brought 10 volunteers on the day of the event and also helped with planning and preparation leading up to the event. With all the help participants were able to get checked-in, geared-up and out on the lake fishing. DWR was also a great help to us in recruiting Boat Captains. We had more than enough boat captains and were able to use the extras to take out some volunteer children and photographers.
All family members that did not go out on boats were shuttled to a nearby pavilion where there were lots of activities going on. There was Smokey the Bear, Woodsy the Owl and Otto the Otter. Other activities included pinewood derby car races, balloon animals, arts and crafts, treats and prizes. As the boaters came in we got reports of fair to good fishing with several participants getting help from volunteers to clean there fish and put them on ice to bring home. Participants and boaters were then shuttled to the pavilion for a lunch of hot dogs provided by JDawgs.
The awards ceremony followed where Brenda Paquette from the C.A.S.T. for Kids Foundation and Brent Esplin Deputy Regional Director from Reclamation's Upper Colorado Region both shared a few thoughts. Then each participant received a plaque with their picture, a medal and a prize bag to take home.
Thanks to our Event Sponsors
Sheet Metal Workers local union 312,Midgley-Huber,Inc.,Pepsi, Western Sheet Metal inc., Truck Décor automotive, Weber Basin Water, D Bat,  Bureau of Reclamation, U.S. Forest Service, Bureau of Land Management, Utah DNR Wildlife Resources, U.S. Department of the Interior, Strawberry Bay Marina, Central Utah Water Conservancy District, Burning Powder Outdoors, Jack's Donuts,  Triumph Gear Systems, Strawberry Water Users Association, J&S Mechanical contracting,  Lews, Flambeau, Cadence, Utah Down Syndrome Foundation, Utah Parent Center, Make a Wish Foundation, Little People of America