"To see these kids, their disabilities, and to try and imagine what their parents deal with each and every day, and knowing they love them unconditionally will touch anyone's heart. The award ceremony was particularly heartfelt, just an amazing experience. Not only did I get joy, and tears out of this event, but great respect for these kids parents." –Shore Volunteer, Coleto Creek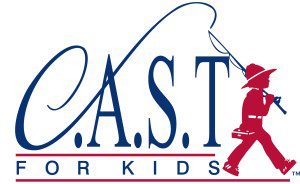 This is a C.A.S.T. for Kids event designed to provide children with disabilities the opportunity to enjoy a quality outdoor recreational experience through the sport of fishing. Not all locations are conducive to hosting boating events. This event gives participants the opportunity to fish from shore.
Event Location
Sportsman's Church
Son Valley Ranch, Texas (
map
)
Event Contacts
Event Coordinator
Larry Nors
361-218-9986
Donate to This Event
See More About This Event!
Check out this video taken at a past event by one of our participants!
Event Itinerary
Our C.A.S.T. for Kids events are include lots of fun and celebration! You can expect 2-3 hours of fishing, a delicious lunch and an awards celebration where your child will receive a personalized plaque. This is a day of fishing your child will never forget!
Read About Past Events
2017 Event Recap
Seeing smiles on the faces of the kids as they actually caught their fish as well the kids receiving the awards for the event was a real thrill for all of us.  The one thing that stuck out the most was the volunteer's responses on how gratifying it was to spend time with the kids and being able to give them the support needed to doing something they had never done and we take for granted. Everyone said to count on them to come back and help next year.  It changed my life and I am excited to say I am already looking forward to next year's event
Thanks to our Event Sponsors
Unifirst, Atlas Oil, Quality Bass Club, Coleto Bassmasters, Superior Trailers, Oilmens, Klean Corp., Golden Corral, Dr. Pepper, Lews, Cadence fishing, Flambeau, 3C's Bass Club, Victoria Air Conditioning