"They're treated with care and respect and it really shows." – Parent, Hagg Lake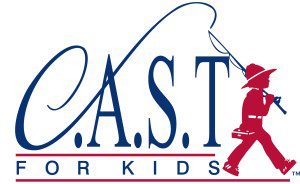 This is a C.A.S.T. for Kids event designed to provide children with disabilities, ages 5 – 17, the opportunity to enjoy a quality outdoor recreational experience through the  sport of fishing. Take to the water with C.A.S.T. for an unforgettable morning of fishing and boating!
Event Location
Hagg Lake
Forest Grove, Oregon (
map
)
Event Contacts
Event Coordinator
Jay Yelas
541-602-9823
Donate To This Event
See More About This Event!
Check out this video taken at a past event by one of our participants!
Event Itinerary
Our C.A.S.T. for Kids events are include lots of fun and celebration! You can expect 2-3 hours of fishing, a delicious lunch and an awards celebration where your child will receive a personalized plaque. This is a day of fishing your child will never forget!
Read About Past Events
2018 Event Recap:
The 20th annual CAST for Kids at Hagg Lake was the best event ever held here. All 39 kids caught fish! The weather was perfect, no wind, a low of 55 and a high of 72 with sunshine. There were tons of boaters and shore volunteers to make the event run smoothly. The awards was the best part as always!
2017 Event Recap:
Beautiful sunny skies and calm conditions greeted 40 participants and their families as they arrived at Hagg Lake for the 18th annual Hagg Lake CAST for Kids.  Only 1 child failed to catch a fish, and many reported stellar fish catches.  Several new boat captains joined veteran CAST boat captains, for a total of 27 boats.  The Hillsboro Kiwanis Club once again cooked hamburgers and hotdogs for a lunch that was very tasty!  Hot, fresh Krispy Crème donuts and Starbucks coffee were enjoyed by all as they arrived on the scene.  Two members of the Gaston Fire Dept. helped load and unload participants and families from their boats.  The local sheriff was also on hand with their boat in the water for the entire event.  There were no incidents or injuries.
Thanks to our Event Sponsors
Cadence fishing,Bureau of Reclamation, Oregon Bass and Panfish club, The Bass Federation of Oregon, Hillsboro/Forest Grove Kiwanis, Bass Federation Nation Oregon, Washington County Oregon, Gaston Fire Dept., Lews, Flambeau, Albertina Kerr Foster Home, Washington County Disabled Youth, Albertina Kerr Foster Home,  Washington County, Dept. of Developmental Disabilities, Northwest Pediatric PT