"We loved it so much! It was a huge blessing to receive the equipment and the boat captains were so patient and motivated to teach the kids a new skill. My son loved fishing and felt real special receiving the plaque, he hung it up on his wall as soon as we got home! More events like this are needed!"

"Awesome program that helped my daughter realize what she could do, helped us as parents see what she could do, helped the volunteers see what she could do, helped those watching see what she could do. Profound success."
Register as Participant
Register as Volunteer
Register as Boat Captain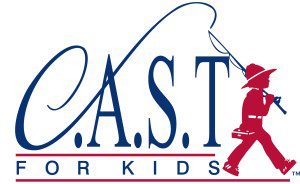 This is a C.A.S.T. for Kids event designed to provide children with disabilities, ages 5 – 17, the opportunity to enjoy a quality outdoor recreational experience through the  sport of fishing. Take to the water with C.A.S.T. for an unforgettable morning of fishing and boating!

Event Location
Lake Folsom
Folsom, California (
map
)
Event Contacts
Event Coordinator
Elizabeth Hennecke
(916) 230-0354
Donate to This Event
See More About This Event!
Check out this video taken at a past event by one of our participants!
Event Itinerary
Our C.A.S.T. for Kids events are include lots of fun and celebration! You can expect 2-3 hours of fishing, a delicious lunch and an awards celebration where your child will receive a personalized plaque. This is a day of fishing your child will never forget!
Read About Past Events
2018 Event Recap
The day started off breezy and chilly but by the time the kids were launching the wind had died down just a little and the sun came out to warm things up a bit. The kids were still all smiles and excited to be heading out on the water for some fun. While out on the water almost all of the kids either personally caught at least 1 fish or at least got to reel one in that their boater had hooked. The boats all returned by noon just in time for a BBQ lunch and the kids smiles now seemed to have turned permanent! The lunch was delicious thanks to the help from our Intel volunteers and BBQ master Luke Castillo. Plaques with pictures of the kids and their boater were handed out and then everybody went home with happy hearts!
2017 Event Recap
It was bluebird skies, we had 17 kids whom showed up out of 27 registered.  We had 23 boaters who traveled from the east bay, all the way down from Southern California to attend this event, and we had 29 shore volunteers.  We had the kids out of the water by 9:40 at the latest, and we a local non-profit channel taking videos, and will have something to us in the next couple of weeks.  Majority of the kids caught fish, while there was a small handful who did not.  But everyone enjoyed their day, and cannot wait until the next event.
Thanks to our Event Sponsors
RIC Insurance, Thompsons of Placerville, El Dorado Bass Club, Sportsman's Warehouse, Best Bass Tournaments, Gary Yamamoto, Lews, Flambeau, Cadence fishing, Intel, Franklin Templeton Investments, V3