"We loved it so much! It was a huge blessing to receive the equipment and the boat captains were so patient and motivated to teach the kids a new skill. My son loved fishing and felt real special receiving the plaque, he hung it up on his wall as soon as we got home! More events like this are needed!"

"Awesome program that helped my daughter realize what she could do, helped us as parents see what she could do, helped the volunteers see what she could do, helped those watching see what she could do. Profound success."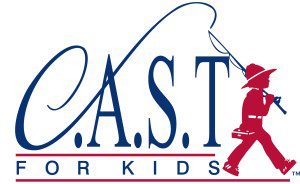 This is a C.A.S.T. for Kids event designed to provide children with disabilities, ages 5 – 17, the opportunity to enjoy a quality outdoor recreational experience through the  sport of fishing. Take to the water with C.A.S.T. for an unforgettable morning of fishing and boating!

Event Location
Weiss Lake
Centre, Alabama (
map
)
Event Contacts
Event Co-Coordinator
Thereasa Hulgan
(256) 927-8455
Event Co-Coordinator
Tara Blanchard
wk. (256) 927-8049 or cell (256) 490-7670
Donate to This Event
See More About This Event!
Check out this video taken at a past event by one of our participants!
Read About Past Events
2017 Event Recap
The 2017 Weiss Lake was a first year event coordinated by Thereasa Hulgan of the Cherokee County Chamber of Commerce and Tara Blanchard of the Cherokee County Schools.  The event was held on the lake and we were able to have 29 children participate with 17 boaters which included some of Weiss Lakes best fishing guides.  The kids were able to catch Bass, Crappie, Bluegill and some very large catfish and had a blast.  There were plenty of volunteers and the local community really got behind the event and are looking forward to next year.  The event may be able to move to a new location next year that has a large covered pavilion and restrooms.  The weather was warmer than normal for late September but everyone had a great time.
Thanks to our Event Sponsors
Cherokee County Chamber of Commerce, Weiss Lake Improvement Association, Save Weiss Lake, Observer, Advertiser Dynamics Inc., Alabama Mountain Lakes Tourist Association, Ace Hardware of Lindale GA, Cherokee Electric CO-OP, Cherokee Medical Center, Main Street Family Urgent Care, Model Tees, Anthony's Guide Service, Alabama Guide Service, The Learning Tree, Berthel Fisher Investments-Andy Lowe, Bay Springs Country Inn and Marina, Crappie Masters