"Reminded me of how the little things in life are important. Giving back to your local community in any way is always rewarding, but hands on is the most impactful. Sharing my favorite escape from reality with someone who doesn't have the opportunity to experience the same thing was something I'll never forget." –Boat Captain, Charlotte Harbor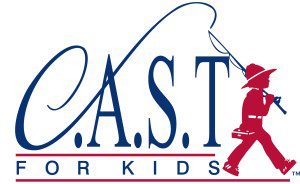 This is a C.A.S.T. for Kids event designed to provide children with disabilities, ages 5 – 17, the opportunity to enjoy a quality outdoor recreational experience through the  sport of fishing. Take to the water with C.A.S.T. for an unforgettable morning of fishing and boating!
Event Location
Charlotte Harbor
Punta Gorda, Florida (
map
)
Event Contacts
Event Co-Coordinator
Alycia Page
863-244-7898
Event Co-Coordinator
Mike Downs
863-441-2656
Donate to This Event
Learn more from Coordinator Alycia's blog, TIDES + TALES
See More About This Event!
Check out this video taken at a past event by one of our participants!
Event Itinerary
Our C.A.S.T. for Kids events are include lots of fun and celebration! You can expect 2-3 hours of fishing, a delicious lunch and an awards celebration where your child will receive a personalized plaque. This is a day of fishing your child will never forget!
Read About Past Events
"The C.A.S.T. Team carried Cort onto the boat, then they transferred his 500lbs power chair onto the boat too.  Then on our way back they did the same thing.  Cort and all of us were totally impressed and we thank everyone involved in making this day such a memorable and wonderful experience for our precious Cort.  He can't stop talking about his experience that day and wants to do it again. I promise next time I'll get him a manual wheelchair if we are so honored as to be given a next time." –Parent of Participant, Charlotte Harbor
"Both Cort and our whole family were immensely impressed with how wonderfully easygoing the whole event was handled.  From the moment we arrived we did not have to do anything.  Every detail even the smallest was thought through and taken care of by the event host/coordinators.  They did an amazing job for all the children and their families.  I can never take them enough for what they gave our Cort that day.  They gave my handsome boy strength to overcome his fears, encouragement to believe in himself, motivation to reach higher than he has ever reached since he became wheelchair bound, and confidence to want to try this again.  Our Cort has been living in a self-induced protective bubble since his accident.  Thank you all so very much for everything you do." –Parent of Participant, Charlotte Harbor
To read more from our incredible coordinator, click here!
Thanks to our Event Sponsors
Parr Moto Retail Solutions, Transpower Construction Services, Inc., Co-Op Financial Services, A+ Environmental Restoration, Mustad, Blackneck Adventures Charters, Barracuda Tackle, Downtown Bait & Tackle, Florida Fishing Products, Salt Strong, Rapid Graphix, Sea Tow Charlotte Harbor, Bone On Sportswear, Danco Pliers, Captains for Clean Water, West Wall Outfitters, Boca Coast, Coca-Cola, Cheney Brothers, Inc., Lew's, Flambeau Outdoors
"A COPY OF THE OFFICIAL REGISTRATION AND FINANCIAL INFORMATION MAY BE OBTAINED FROM THE DIVISION OF CONSUMER SERVICES BY CALLING TOLL-FREE WITHIN THE STATE. REGISTRATION DOES NOT IMPLY ENDORSEMENT, APPROVAL, OR RECOMMENDATION BY THE STATE." 1-800-HELP-FLA (435-7352) www.FloridaConsumerHelp.com
REGISTRATION#: CH25416